During the call played at IBAC on Friday, Mr Bollas told Mr Haritos that a commuter suspected of being COVID-positive had been on the trains for two weeks. "I will never ride a train again in my life," said the Metro manager at the time.
Transclean has been paid $ 1.3 million per month for additional COVID cleanup by taxpayers, in addition to a $ 40 million contract with V / Line and a $ 5 million contract with Metro.
Melbourne's public transport industry has been rocked by serious corruption allegations heard at IBAC that officials from V / Line and Metro Trains were paid by Transclean while overseeing cleaning contracts funded by taxpayers.
This is the third corruption investigation of Melbourne public transport operators in five years and the second investigation into regional rail operator V / Line in three years.
V / Line's board of directors fired its chief executive James Pinder and Metro sacked Mr. Bollas, while V / Line terminated its contract with Transclean following allegations that Mr. Pinder accepted $ 320,000 of Transclean funds he spent on his $ 2.5 million house. . Mr. Pinder claimed the money was a loan.
Metro and Yarra Trams are reviewing their contracts with the company. The opposition calls for the dismissal of the board of directors of V / Line.
The Rail, Tram and Bus Union has written to the Department of Transport asking that cleaners be directly employed by the government rather than contractors.
"With too many muzzles in the trough, the current model of network cleaning is open to persistent problems and is in urgent need of overhaul," State Secretary Luba Grigorovtich said.
Mr Bollas told IBAC that he and Mr Pinder had received monthly payments of $ 8,000 to $ 10,000 each for more than three years, with Mr Bollas pocketing up to $ 150,000 in exchange for promoting Transclean's interest. .
The couple devised a plan to take advantage of additional COVID cleanup, with Mr Pinder calling Mr Haritos earlier this year to advise him of the "opportunity" to "boost your coffers."
Mr Pinder and Mr Bollas planned to ask Mr Haritos for $ 50,000 each, but Mr Bollas said he ultimately received $ 10,000, according to the investigation.
Earlier on Friday, the investigation learned that sacked V / Line boss James Pinder had asked Mr. Haritos if he could contact "friends" to help him arrange financing for a loan on a $ 2.5 million home in Williamstown.
Mr Haritos told IBAC he was Mr Pinder's closest friend when he returned from Britain to Australia to take on the role of V / Line's managing director at the end of 2016.
He ultimately "indirectly" loaned Mr. Pinder a portion of $ 320,000 to cover the deposit for his $ 2.5 million home in Williamstown in 2018.
"He asked me about my circle of friends… he didn't want to go through a stranger," Mr. Haritos told the inquest.
Bank statements show that $ 320,000 was channeled to Mr. Pinder of Transclean or associated entities through two intermediaries – a Transclean employee Marie Tsakopoulos and her sister, whom Mr. Pinder claims to have never met. .
Mr Haritos claimed the transactions simply showed him repaying a loan to Ms Tsakopoulos, an employee who oversees the cleaning contracts.
He denied making any regular payments to Mr Pinder, beyond the occasional dividend from a shared gaming fund. The transactions did not compromise Mr Pinder and did not need to be disclosed by Mr Pinder, he told the inquest.
Secret images taken from Mr. Haritos' Mercedes Benz and released during the hearings showed Mr. Haritos handling envelopes in his car on July 21, the day Mr. Bollas told IBAC he had met Mr. Haritos and that he pocketed $ 20,000 in cash in two envelopes of $ 10,000 each, including his monthly payment and a COVID-19 clean-up bonus.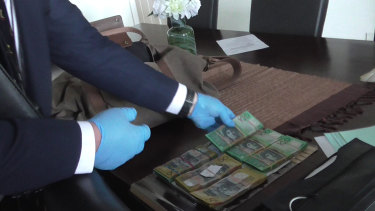 Mr. Haritos is captured in his car with his nephew and employee Steve Kyritsis arranging the envelopes and counting "10" and "20" and saying "good payment".
Mr Kyritsis said "Here is his bike" and later added "He will put it in his… motorhome".
Separate footage from the same morning shows the couple talking about the license plate number of Mr Bollas 'car at North Melbourne marshalling yard, and Mr Haritos asks:' Are there any cameras? "
Mr Haritos denied making arrangements to make cash payments to Mr Bollas, saying he handed face masks or sensitive documents to the metro manager and that the seven cash withdrawals of $ 2,000 each in the days leading up to the meeting were for her daughters' birthdays.
Loading
A series of intercepted phone conversations capturing Mr. Haritos speaking with Ms. Tsakopoulos ahead of the meeting revealed that Mr. Hartios said he was organizing funds and referred to "10" "20" and "30".
Mr Haritos told the inquest that it was money for his mother's caregivers and that when "Peter" was mentioned on the phone on some occasions it was not Mr Bollas but from another Peter he worked with.
Earlier in the hearings, Mr Haritos claimed he bet money from a kitten shared with Mr Pinder, winning around two quadrellas a month and handing the proceeds to Mr Pinder in cash.
He said the $ 10,000 withdrawal before meeting Mr. Pinder in March of this year was "purely a coincidence" and that many withdrawals were made to cover his "living expenses".
Mr Pinder said the money he pocketed from Mr Haritos came from a legal gambling union that included Mr Bollas, but Mr Bollas said such a union did not exist and he and Mr. Pinder were secretly pocketing money from Transclean.
The hearing continues next week.
Receive our Morning & Evening Edition newsletters
The most important news, analysis and information sent to your inbox at the start and end of each day. register here.